Angelica Jordan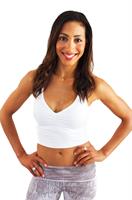 Angelica is the reason most of the members of BURN fitness wake up at 5am. They LOVE riding her 6:15am class 3 days a week. She gets them going with good music and her sweet smile. She's motivating and captivating all at the same time.
Angelica Jordan instructs the following:
Our signature RYDE is 45 minutes long. Physically, it is designed as a high intensity interval training workout where we RYDE to the beat of the music. Emotionally it's a journey for whatever you want that day. BEST PART: It's all-out fun! (No weights in this class)




This power hour is for those of you who challenge yourself to go the distance in most aspects of your life. The ryde is about mental endurance. We KNOW your body can do it, now it's time to test your willpower. Don't worry, our instructors will have you entertained the whole way!