Michael Ostrom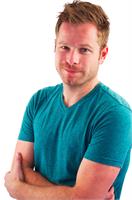 Michael is obsessed with music. He spends hours scouring the internet for the best new songs and remixes to blend in with his favorite classics. KISS FM doesn't have anything on him! Michael uses his music to take you on a 45 minute blow out good time in an effort to satisfy your body and soul. He brings out that inner diva. Because at the end of the day, having a good time is what life is all about. Leave everything at the door and join Michael for the ryde you have been looking for!
Michael Ostrom instructs the following:
45 minute RYDES that match the movement of the music with hills, sprints, jumps, arm dips, crunches and a little weights (one set of weights). This is synced to RPMs and BPMs in the music and movement to inspire the RYDER to spin strong and gain strength.




Ready for Turkey, dressing and stuffing?! What about that pie?! But first, let's RYDE! Burn some calories with Michael Ostrom for a 60 minute RYDE STRENGTH CLASS on Thanksgiving Day.

There will be a great RYDE with a great guy followed by bumping music, hills, sprints and 2 sets of weights, all set to a great beat! You'll be dancing all the way to the dinner table on Thanksgiving Day!