Michael Ostrom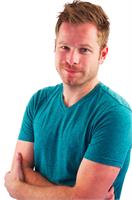 Michael is obsessed with music. He spends hours scouring the internet for the best new songs and remixes to blend in with his favorite classics. KISS FM doesn't have anything on him! Michael uses his music to take you on a 45 minute blow out good time in an effort to satisfy your body and soul. He brings out that inner diva. Because at the end of the day, having a good time is what life is all about. Leave everything at the door and join Michael for the ryde you have been looking for!
Michael Ostrom instructs the following:
Our signature RYDE is 45 minutes long. Physically, it is designed as a high intensity interval training workout where we RYDE to the beat of the music. Emotionally it's a journey for whatever you want that day. BEST PART: It's all-out fun! (No weights in this class)




Think bootcamp without the burpees! This hour RYDE is an interval class designed to build strength in your upper and lower body. The workout features 3 weight lifting segments using a light and moderate set of hand weights. You RYDE hard to raise your heart rate and lift weights while your legs rest. You'll build and tone the muscle in your arms and back to give your body more definition.